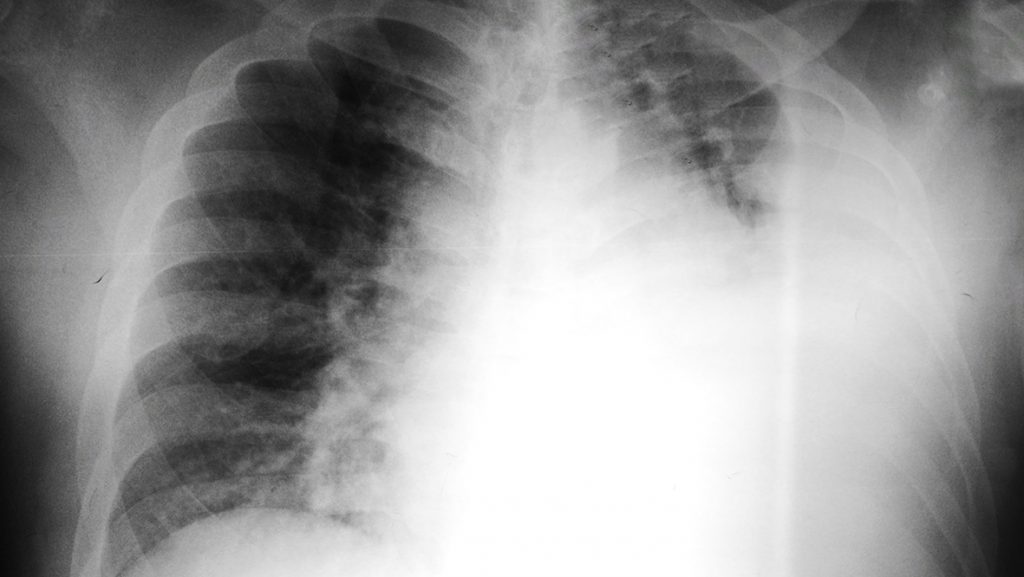 This is the first reported case of community-acquired Kocuria kristinae bacteraemic empyema – resolved after insertion of a chest tube and intravenous piperacillin-tazobactam and levofloxacin.
A 57-year-old man presented with dyspnoea for 2 days and associated symptoms of cough, sputum, left shoulder pain, diaphoresis, myalgia, fever, and chills. He had well-controlled diabetes – diagnosed three years ago – with haemoglobin A1c level of 6.9% at the time of his admission. The patient's initial blood pressure of 206/109 stabilised spontaneously within an hour upon admission to the emergency department, but his sinus tachycardia persisted. Low-dose chest computed tomography (CT) revealed a large amount of left hydropneumothorax, multiloculated left pleural effusion with pleural enhancement, pleural adhesion and passive atelectasis.
Laboratory tests revealed leukocytosis (white blood cell count of 24,300 cells/mm3), elevated erythrocyte sedimentation rate (121 mm/hr) and C-reactive protein level (45.8 mg/dL) – suggestive of inflammation which may be associated with an infection; prolonged prothrombin time (1.18 INR) and hypoalbuminaemia (3.0 g/dL) – consistent with sepsis; and exudative pleural effusion.
The patient was admitted to the intensive care unit – a 24-French chest tube was inserted, and intravenous ceftriaxone, levofloxacin, and clindamycin were initiated under the suspicion of parapneumonic empyema due to aspiration pneumonia. Three sets of blood culture yielded gram-positive, catalase-positive and coagulase-negative cocci identified later as K. kristinae. The patient had a relapsing fever on day 11 and was given intravenous piperacillin-tazobactam and levofloxacin. He was discharged on day 23 with a prescription of amoxicillin-clavulanic acid.
Kocuria species are normal flora of the skin and mucous membrane of human and animals.1,2 Although typically non-pathogenic and usually regarded as laboratory contaminants, there has been a rise in infections caused by Kocuria spp in immunocompromised patients as well as previously healthy and immunocompetent individuals.2
Due to their phenotypic variability, Kocuria spp react differently towards standard biochemical tests including catalase, urease, and citrate utilisation test, and are negative for mannitol fermentation and coagulase enzyme – therefore, it is not uncommon to misidentify coagulase-negative staphylococci (CoNS) as Kocuria.2 Genomic sequencing is recommended for accurate identification of Kocuria spp; however, due to insufficient facilities to preserve the microorganism for further genomic testing in the current report, an automated identification system was used for final confirmation.1 The authors ruled out the possibility of contamination and misidentification as K. kristinae was isolated from all three specimens.
The majority of Kocuria spp are sensitive to empirical antibiotics for community-acquired pneumonia.1 The patient's symptoms improved with the insertion of a chest tube and an empiric therapy which included levofloxacin to cover common pathogens of aspiration pneumonia and empyema. The reporting of this case may broaden the clinical spectrum of reported infections caused by the rare K. kristinae, particularly in immunocompetent individuals.
Source
A case of community-acquired bacteremic empyema caused by Kocuria kristinae.
PMID: 29968982
DOI: 10.3947/ic.2018.50.2.144
Link: https://www.ncbi.nlm.nih.gov/pubmed/29968982
References
Kim KY, et al. Infect Chemother 2018;50:144-158.
Kandi V, et al. Cureus 2016;8:e7