Pharmacology: Pharmacodynamics: Mechanism of Action: The mechanism of action of sitafloxacin involves inhibition of bacterial deoxyribonucleic acid (DNA) gyrase and topoisomerase IV. Bactericidal activity of sitafloxacin results from inhibition of these enzymes. The inhibitory activity of sitafloxacin against these enzymes was higher than that of the other quinolone antimicrobials used as comparators. Sitafloxacin also has a potent inhibitory activity against enzymes from quinolone-resistant bacteria.
Antibacterial Activity: Sitafloxacin has a broad spectrum of antibacterial activity against aerobic and anaerobic gram-positive and gram-negative bacteria, as well as atypical bacteria. Sitafloxacin showed potent antibacterial activities against microorganisms eg, Staphylococcus sp, Streptococcus sp, Streptococcus pneumoniae, Enterococcus sp, Moraxella (Branhamella) catarrhalis, Escherichia coli, Citrobacter sp, Klebsiella sp, Enterobacter sp, Serratia sp, Proteus sp, Morganella morganii, Haemophilus influenzae, Pseudomonas aeruginosa, Legionella pneumophila, Peptostreptococcus sp, Prevotella sp, Porphyromonas sp, Fusobacterium sp, Chlamydia trachomatis, Chlamydophila (Chlamydia) pneumoniae and Mycoplasma pneumoniae. In comparison to other quinolone antimicrobials, sitafloxacin shows more potent antibacterial activities in particular against Streptococcus pneumoniae (including penicillin-resistant and macrolide-resistant Streptococcus pneumoniae), Enterococcus sp, Pseudomonas aeruginosa and Escherichia coli (including quinolone-resistant Escherichia coli).
Therapeutic Effects of Sitafloxacin for Experimental Infection: Sitafloxacin showed a therapeutic effect against infection, reflecting its antimicrobial activity in vitro in mouse models of sepsis caused by gram-positive or gram-negative organisms. Sitafloxacin also showed a greater therapeutic effect than the other quinolone antimicrobial agents used as controls in a mouse model of pneumococcal respiratory tract infection.
Pharmacokinetic and Pharmacodynamic (PK/PD) Analysis in Patients with Respiratory Infections: The results of the PK/PD analysis in a clinical study conducted in patients with respiratory tract infections demonstrated that the eradication rate of causative pathogens increased along with increase of AUC0-24hr/MIC or Cmax/MIC value. The rate of disappearance of major causative organisms in patients with respiratory tract infections, involving 22 Streptococcus pneumoniae strains, was 96.3% (78/81) for cases with an AUC0-24hr/MIC of >100 or 96.3% (79/82) for cases with a Cmax/MIC of >5.
Pharmacokinetics: Serum Drug Concentrations: The following figures and tables show serum concentrations and pharmacokinetic parameters of sitafloxacin following a single and repeated oral dose administered to healthy adults in the fasting or postprandial state. (See Figures 1, 2 and 3; and Tables 1, 2 and 3.)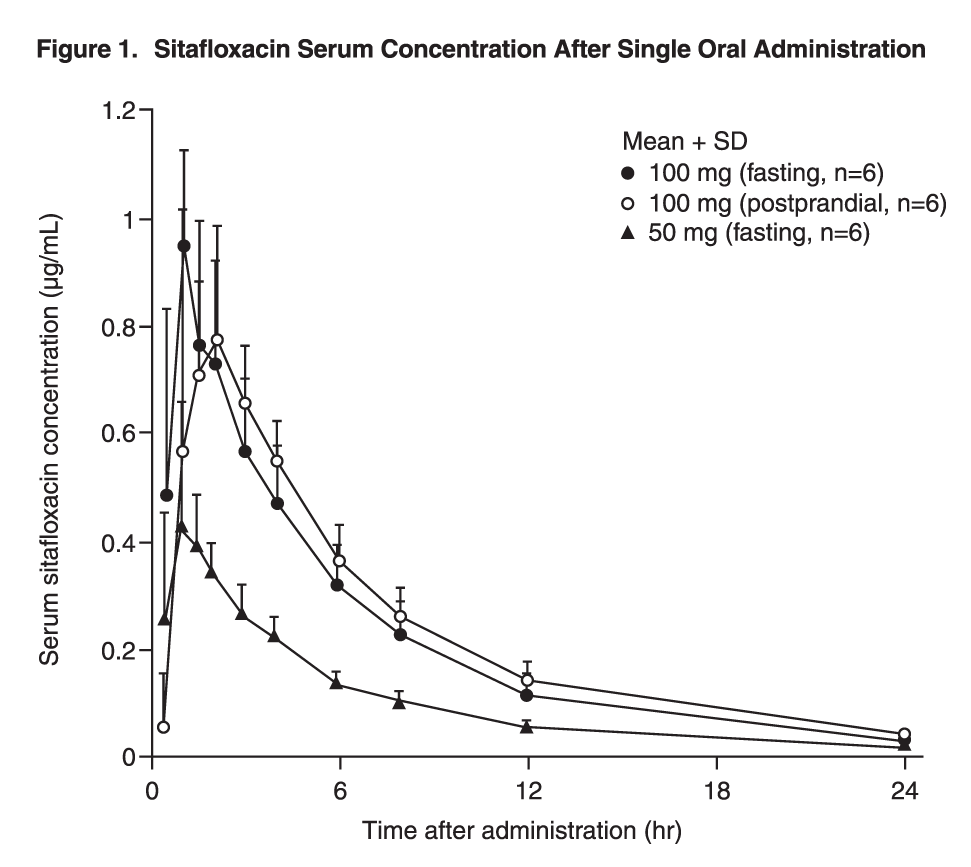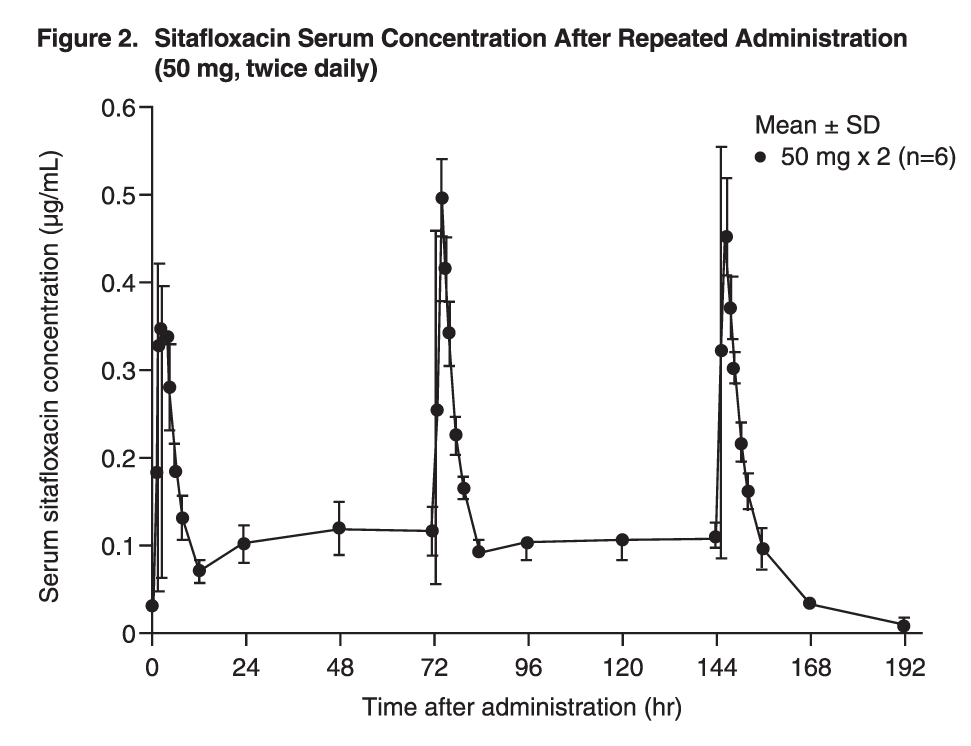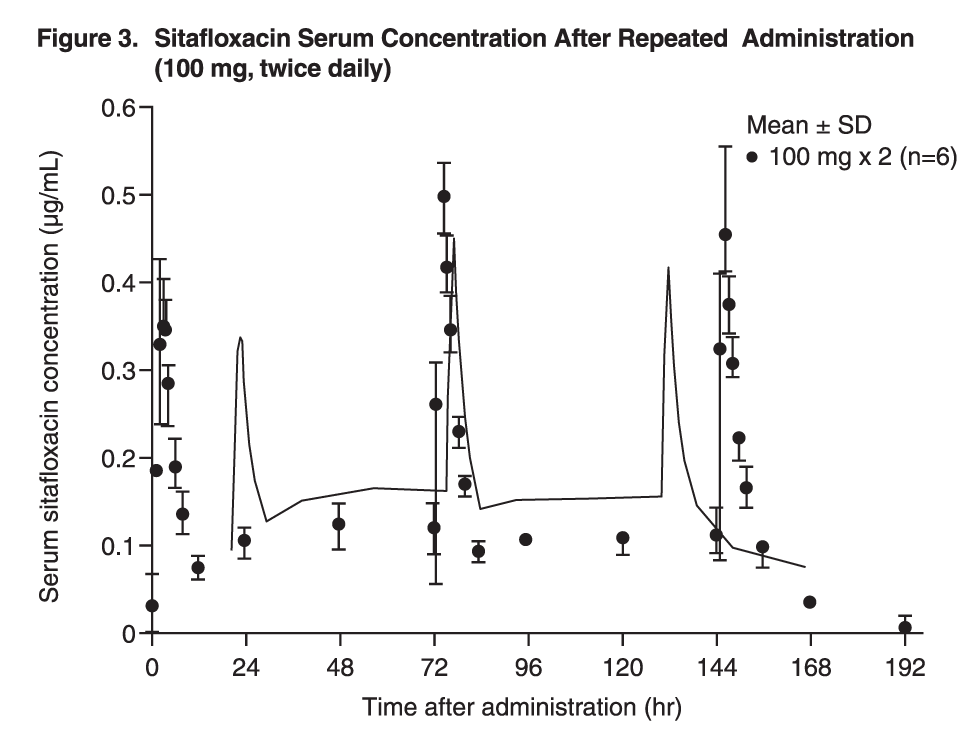 Serum Protein-Binding: The mean serum protein-binding rate of sitafloxacin was practically constant ranging from 46-55%, as determined by ultrafiltration, 1, 4 and 8 hrs after being administered orally to healthy adults in a single dose of 100 mg.
Distribution: When sitafloxacin was administered orally in a single dose of 50 or 100 mg, the drug concentrations in different tissue and body fluid were as follows, indicating favorable drug transfer to these tissue/fluid. (See Table 4.)

Metabolism: Sitafloxacin was scarcely metabolized and was excreted as an unchanged form in the urine. Some of the metabolites identified in the serum, urine and feces are as follows: Glucuronide, 7′-oxo metabolite, 7'S-hydroxylated metabolite, glucuronide of 7'S-hydroxylated metabolite and N-acetyl conjugate.
An in vitro study performed using human tissue specimens showed that sitafloxacin modestly inhibited the CYP1A1 and CYP1A2 enzymatic activities, but did not cause any inhibition of other CYP isoforms eg, CYP2C9, CYP2D6 and CYP3A4.
Excretion: When sitafloxacin 50 or 100 mg was administered to healthy adults in the fasting state, approximately 70% of these administered doses was excreted in unchanged form in urine within 48 hrs.
Data of the United Kingdom showed that after administration of 14C-labeled sitafloxacin at a dose of 100 mg, approximately 80% of the administered radioactivity was excreted in urine within 72 hrs and approximately 20% was excreted in feces within 72 hrs.
Pharmacokinetics in Patients with Renal Function Disorders: In patients grouped according to creatinine clearance (CrCl) value who were administered a single oral dose of sitafloxacin 50 mg in the fasted state, a prolonged biological half-life (t½) of serum concentration and a delay of the urinary excretion were observed progressively with decreasing renal function. (See Tables 5 and 6.)


Pharmacokinetics in Elderly Subjects: Five (5) elderly and 6 non-elderly subjects 67-80 years and 25-35 years, respectively, received a single oral dose of sitafloxacin 100 mg in the fasting state. In the elderly subjects, prolonged t½ decreased Cmax and increased AUC0-24hr were observed in comparison to the non-elderly subjects. These findings suggest that the pharmacokinetic profile of sitafloxacin is influenced by age-related decline of the absorption and excretion functions. (See Table 7.)

Toxicology: Preclinical Safety Data: Single-Dose Toxicity: Approximate oral lethal doses (LD) were over 1880 and 469 mg/kg in rats and monkeys, respectively. Intravenous LD50 was 188 mg/kg in mice.
Repeated-Dose Toxicity: In rats, toxic findings included urinary medicine-like crystals with no renal lesions and exacerbation of spontaneous femoral osteochondrotic lesions after 4- and 13-week oral dosing, with 46.9 and 20 mg/kg/day of No Observed Adverse Effect Level (NOAEL). In monkeys, decreased spermatogenic cells in testis and a mild increase in serum phospholipid level were seen after 4- and 52-week oral dosing, with 28.1 and 25 mg/kg/day of NOAEL.
Genotoxicity: Sitafloxacin was positive in in vitro reverse mutation (Escherichia coli WP2uvrA/pKM101), chromosomal aberration and mouse lymphoma TK tests, but negative in in vivo micronucleus, unscheduled DNA synthesis and dominant lethality tests.
Reproductive Toxicity: Sitafloxacin had no effects on fertility, pregnancy and lactation in parental rats, but induced abortion in rabbits as a common effect of antibiotics. Sitafloxacin was not teratogenic in rats and rabbits although minor effects were noted in foetuses and offsprings.
Arthrotoxicity in Dogs: Sitafloxacin induced blister formation in the articular cartilage of juvenile, but not adult, dogs.
Phototoxicity: NOAELs were 20 and 93.8 mg/kg/day in albino and pigmented mice.
Photogenotoxicity: Sitafloxacin was positive in in vitro photogenotoxicity test, but NOAEL was 20 mg/kg in in vivo mouse test.