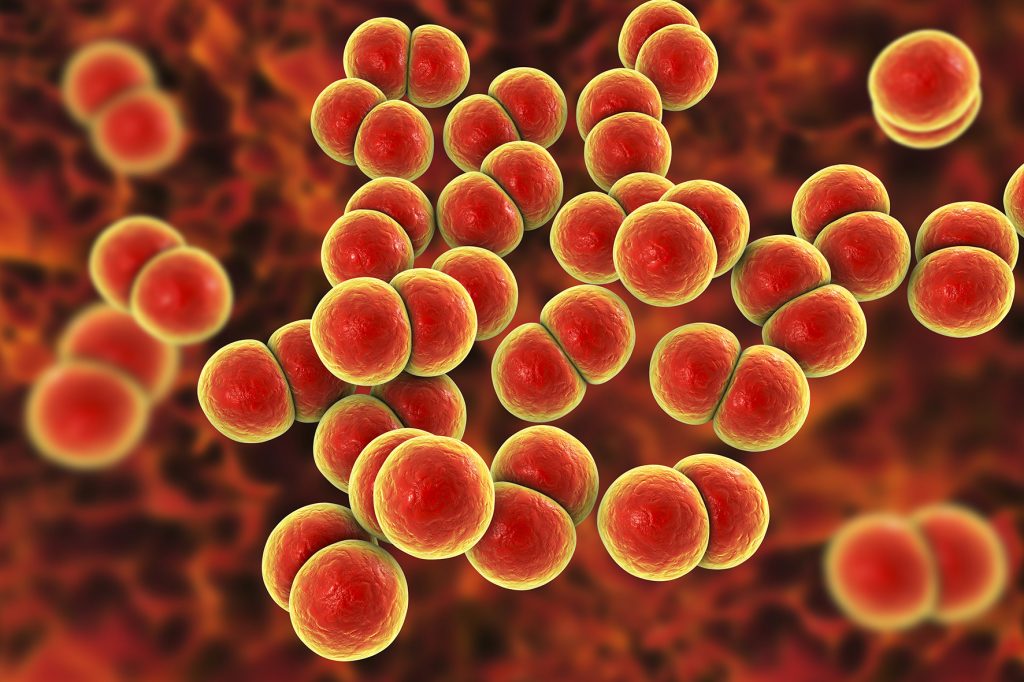 Neisseria gonorrhoeae is a sexually-transmitted pathogen that may cause asymptomatic infection or may clinically present as urethritis, cervicitis, pharyngitis or proctitis.1 In women, untreated gonorrhoea may cause long-term abdominal pain, pelvic inflammatory disease, ectopic pregnancy, scarring of the fallopian tubes and infertility.2 Hence, the emergence of antimicrobial resistance in N. gonorrhoea poses a major public health threat.
The increasing prevalence of ciprofloxacin-resistant N. gonorrhoeae isolates has been reported in various parts of the world.3,4 Recent work by Japanese researchers published in the journal Microbial Drug Resistance investigated the in vitro activity of various quinolones against ciprofloxacin-resistant N. gonorrhoeae.5 This study focused on the antimicrobial activity of sitafloxacin – a newer fluoroquinolone that is mainly used for respiratory tract and urogenital infections in Japan.
Forty-seven N. gonorrhoeae isolates cultured in 2009 were examined. These samples were collected through the Japanese antimicrobial resistance surveillance. Samples included both ciprofloxacin-susceptible (n = 12) and ciprofloxacin-resistant isolates (n = 35). Agar dilution was performed to determine the minimum inhibitory concentration (MIC) for ciprofloxacin, sitafloxacin, levofloxacin, moxifloxacin, tosufloxacin and pazufloxacin.
Mutations conferring antimicrobial resistance were also identified. The quinolone resistance-determining region (QRDR) of gyrA and parC were sequenced using polymerase chain reaction. The GyrA and ParC QRDR mutations were further classified into 11 mutational patterns. These mutational patterns were then cross-indexed with ciprofloxacin and sitafloxacin MICs.
Hamasuna and colleagues reported that the in vitro potency of sitafloxacin was substantially higher compared with all other tested fluoroquinolones. Among ciprofloxacin-susceptible N. gonorrhoeae isolates, ciprofloxacin and the newer generation fluoroquinolones had similar activities. It is worthy to note, however, that sitafloxacin demonstrated greater antimicrobial activity compared with ciprofloxacin. That is, the median sitafloxacin MICs were significantly lower than ciprofloxacin MICs (0.12 mg/L versus 16 mg/L, p < 0.0001).
For the 35 ciprofloxacin-resistant N. gonorrhoeae isolates, the MICs of sitafloxacin ranged from 0.03 to 0.5 mg/L. Sitafloxacin demonstrated excellent activity against N. gonorrhoeae isolates, including strains with mutations in DNA gyrase and topoisomerase IV. These mutations resulted in high-level N. gonorrhoeae resistance to ciprofloxacin and all other newer generation fluoroquinolones examined, similar to previous in vitro studies for Pseudomonas aeruginosa and Staphylococcus aureus strains with mutations in QRDR of DNA topoisomerases.6,7
Compared with other fluoroquinolones, sitafloxacin was significantly less affected by GyrA and ParC QRDR mutations. The authors acknowledged that the sitafloxacin MICs were to a lower extent affected by these mutations, resulting in sitafloxacin MICs of up to 0.5 mg/L. Nevertheless, the resulting sitafloxacin MICs were much lower compared to the ciprofloxacin MICs of the same strains (up to >32 mg/L).
The authors concluded that although sitafloxacin should not be considered as an empirical first-line monotherapy of gonorrhoea, it remains an important treatment option for patients with ceftriaxone resistance or allergy. Sitafloxacin is also valuable in combination antimicrobial therapy with rifampicin, demonstrating synergistic effect against drug-resistant Acinetobacter baumannii and Mycobacterium tuberculosis .8,9
PMID: 28581359 (Hamasuna R, et al. Microb Drug Resis. 2018 Jan/Feb;24(1):30-34)
DOI: 10.1089/mdr.2017.0054. Epub 2017 Jun 5.
Source: https://www.ncbi.nlm.nih.gov/pubmed/28581359
References:
Handsfield HH, Lipman TO, Harnisch JP, Tronca E, Holmes KK. Asymptomatic gonorrhea in men. Diagnosis, natural course, prevalence and significance. N Engl J Med. Jan 17 1974;290(3):117-123.
Cates W, Jr., Rolfs RT, Jr., Aral SO. Sexually transmitted diseases, pelvic inflammatory disease, and infertility: an epidemiologic update. Epidemiol Rev. 1990;12:199-220.
Tanaka M, Nakayama H, Notomi T, et al. Antimicrobial resistance of Neisseria gonorrhoeae in Japan, 1993-2002: continuous increasing of ciprofloxacin-resistant isolates. Int J Antimicrob Agents. Sep 2004;24 Suppl 1:S15-22.
Wildman G, Rajamanoharan S, Tang A. Ciprofloxacin-resistant gonorrhoea. Int J STD AIDS. Jan 2000;11(1):69.
Hamasuna R, Ohnishi M, Matsumoto M, Okumura R, Unemo M, Matsumoto T. In Vitro Activity of Sitafloxacin and Additional Newer Generation Fluoroquinolones Against Ciprofloxacin-Resistant Neisseria gonorrhoeae Isolates. Microb Drug Resist. Jan/Feb 2018;24(1):30-34.
Tanaka M, Wang T, Onodera Y, Uchida Y, Sato K. Mechanism of quinolone resistance in Staphylococcus aureus. J Infect Chemother. Sep 2000;6(3):131-139.
Akasaka T, Tanaka M, Yamaguchi A, Sato K. Type II topoisomerase mutations in fluoroquinolone-resistant clinical strains of Pseudomonas aeruginosa isolated in 1998 and 1999: role of target enzyme in mechanism of fluoroquinolone resistance. Antimicrob Agents Chemother. Aug 2001;45(8):2263-2268.
Bhusal Y, Shiohira CM, Yamane N. Determination of in vitro synergy when three antimicrobial agents are combined against Mycobacterium tuberculosis. Int J Antimicrob Agents. Oct 2005;26(4):292-297.
Dong X, Chen F, Zhang Y, Liu H, Liu Y, Ma L. In vitro activities of sitafloxacin tested alone and in combination with rifampin, colistin, sulbactam, and tigecycline against extensively drug-resistant Acinetobacter baumannii. Int J Clin Exp Med. 2015;8(5):8135-8140.