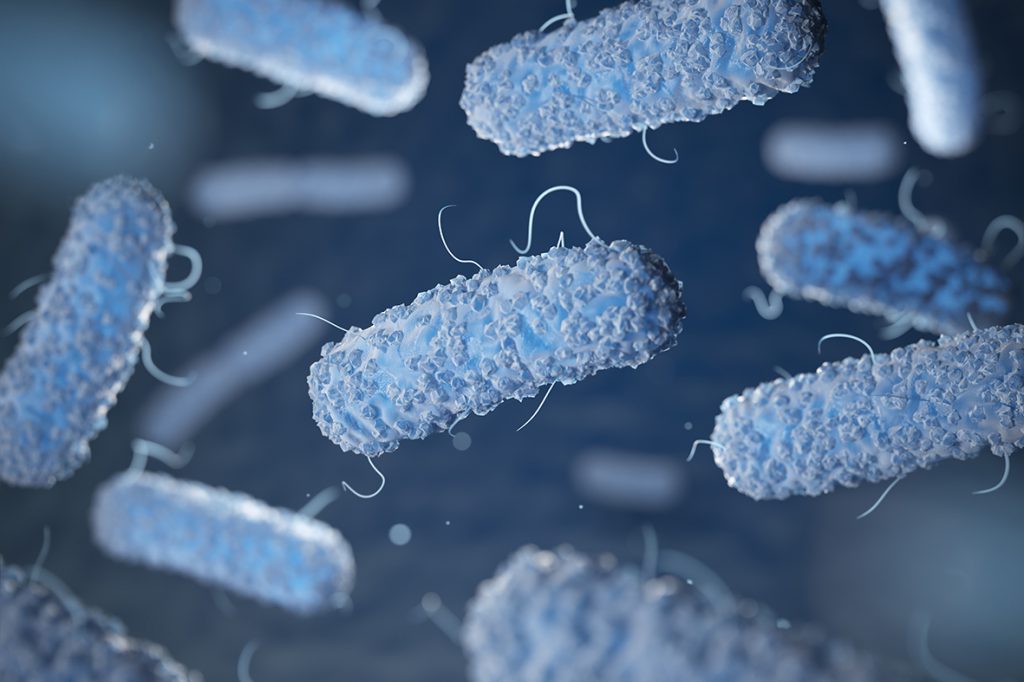 This is the first published case showing levofloxacin as an effective alternative oral antibiotic for the treatment of discitis caused by the Gram-negative bacillus Aggregatibacter actinomycetemcomitans.
A 52-year-old Japanese woman presented with low back pain for 7 days that could not be relieved by acetaminophen or tramadol. She had no medical or surgical history of gingivitis or periodontitis although did have occasional gingival bleeding when flossing her teeth. There were no physical or neurological abnormalities; however, lumbar vertebral magnetic resonance imaging (MRI) revealed a T2-high region on the disc between the L4 and the L5. The patient was suspected of having discitis and intravenous ceftriaxone was initiated for four weeks.
Blood culture was positive for Gram-negative bacilli and isolates were identified as A. actinomycetemcomitans. Although antimicrobial susceptibility testing was not performed due to poor growth by broth microdilution method, the clinicians switched from ceftriaxone to the broad-spectrum levofloxacin. The choice of levofloxacin was based on documented variable in vitro susceptibility of the pathogen to penicillin and ampicillin – as well as reports establishing the efficacy of fluoroquinolone on Aggregatibacter infection.
Following a small degree of exacerbation unrelated to treatment failure, the levofloxacin treatment duration was prolonged to six weeks after a two-week treatment upon discharge. At the end of treatment, the patient's symptoms resolved with normalized laboratory markers and no signs of relapse during the three months of follow-up.
actinomycetemcomitans is a well-known pathogen of gingivitis and periodontitis, but only occasionally causes infective endocarditis and rarely discitis or vertebral osteomyelitis.1-4 A positive culture in this case made it reasonable to consider that it was the true pathogen and not contamination. The patient's occasional bleeding in flossing her teeth was believed to have contributed to bacteraemia and consequently discitis – a condition suggesting underlying gingivitis or periodontitis – although a tissue biopsy of her vertebra was not performed.5
A total duration of six weeks parenteral or highly bioavailable oral treatment is recommended for vertebral osteomyelitis.6 This has led to the choice of levofloxacin for this patient, based on considerations that both oral amoxicillin and intravenous ampicillin may be less efficacious.
Based on this successful treatment, the authors propose levofloxacin to be an effective and efficacious alternative antimicrobial agent for the treatment of discitis caused by the fastidious A. actinomycetemcomitans under unknown antimicrobial susceptibility.
Source
A successful antimicrobial therapeutic strategy for the discitis caused by Aggregatibacter actinomycetemcomitans under unknown drug susceptibility: A case report.
PMID: 29685853
DOI: 10.1016/j.jiac.2018.03.013
Link: https://www.ncbi.nlm.nih.gov/pubmed/29685853
References
Muhle I, et al. J Am Med Assoc 1979;241:1824-1825.
Farrington M, et al. Br Med J (Clin Res Ed) 1983;287:1658-1660.
Nashi M, et al. Orthopedics 1998;21:714-716.
Patel SM, et al. Diagn Microbiol Infect Dis 2004;50:283-285.
Uno S, et al. J Infect Chemother 2018 Apr 20. doi: 10.1016/j.jiac.2018.03.013. [Epub ahead of print]
Berbari EF, et al. Clin Infect Dis 2015;61:e26-e46.