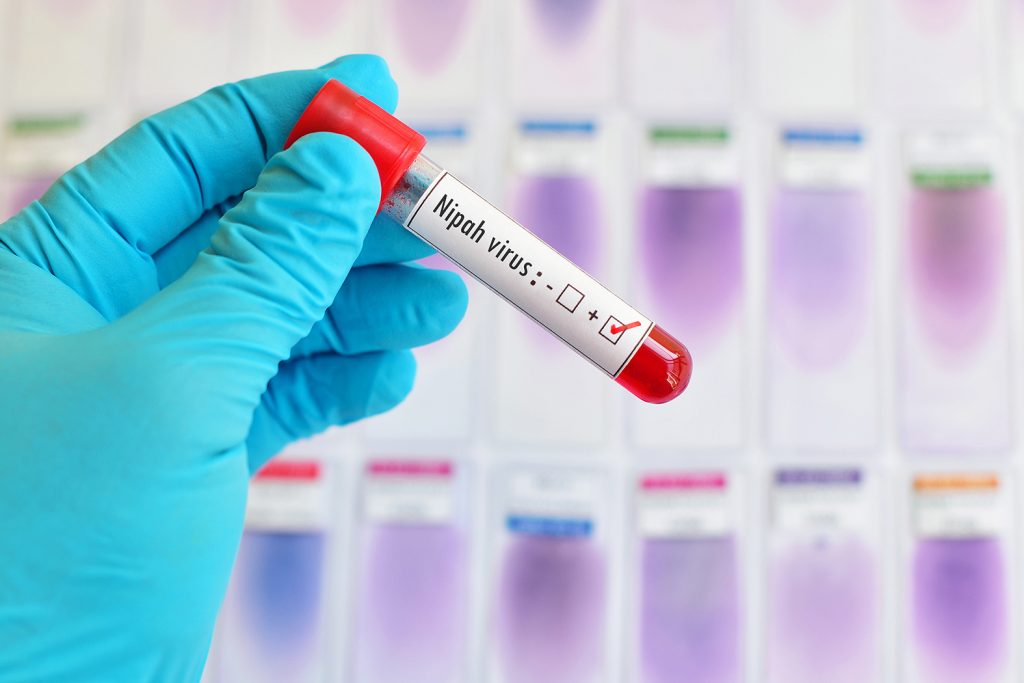 The latest Nipah virus (NiV) outbreak in the Kozhikode and Malappuram districts of Kerala in southern India has claimed 17 lives among the 18 confirmed cases, and resulted in the quarantine of more than 2,000 people.1,2 The outbreak has prompted the Coalition for Epidemic Preparedness Innovations (CEPI) – a global alliance of governments and non-profits – to step up vaccine development efforts for the deadly infection.
The NiV outbreak – associated with severe encephalitis and respiratory illnesses – was first noted in late September 1998 in Malaysia and Singapore. Electron microscopic, serologic, and genetic studies have suggested that both Nipah and Hendra virus are representative of a new genus within the family Paramyxoviridae – unusual members among the paramyxoviruses due to their ability to cause potentially fatal infection in many host species, including humans.3
In the Malaysia-Singapore outbreak, virus transmission occurred primarily through contact with infected pigs – which had become infected from fruit bats; however, the yearly outbreaks in Bangladesh and India since 2001 have been associated with ingestion of contaminated date palm sap and human-to-human transmission.4 Infection with NiV presents with fever, headache, dizziness, and vomiting – which develop into severe encephalitis; some patients develop psychiatric features including depression and personality changes; respiratory involvement has also been reported in 14 to 29% of cases.4
Treatment is limited to supportive care consisting of anticonvulsants, treatment of secondary infection, mechanical ventilation, and rehabilitation; standard infection control practices and barrier nursing techniques are implemented to prevent nosocomial transmission.4,5 The drug ribavirin – with its broad-spectrum activity against DNA and RNA viruses and ability to cross the blood-brain barrier – has been used as empirical treatment at the onset of the Malaysia-Singapore outbreak, has also been shown to be effective in vitro although clinical effectiveness remains uncertain.4,5
The current outbreak – in addition to NiV infection deemed a public health risk with epidemic potential and its high mortality rate – has lent urgency to vaccine development. CEPI has therefore announced a collaboration with Profectus BioSciences, Inc. and Emergent BioSolutions Inc. to step up efforts on the development and manufacture of a vaccine against the deadly pathogen. Under the $25 million CEPI-funded programme, Profectus will advance its pre-investigational new drug (pre-IND) vaccine candidate for NiV while Emergent will provide technical and manufacturing support.6
The vaccine development will be based on the NiV and Hendra virus technology developed at the Uniformed Services University of the Health Sciences (USU) more than 15 years ago; the vaccine was tested in multiple preclinical models and licensed to Profectus BioSciences to develop the human vaccine; the next step forward would be studies on correlates of immunity prior to the development of a clinical assay for the evaluation of the anti-NiV vaccine response.6
NiV has emerged as a new virus 20 years ago – with the widespread presence of the reservoir host Pteropus bat – the potential for outbreaks to occur in new regions remains significant. The Kerala government declared both Kozhikode and Malappuram districts NiV free on 1 July 2018 as no fresh cases were reported after 1 June.7
References
World Health Organization. Outbreak of Nipah virus encephalitis in Kerala state of India. Available at: http://www.searo.who.int/entity/emerging_diseases/links/nipah_virus/en/. Accessed July 2018.
India's Kerala state on alert amid Nipah virus outbreak. Available at: https://www.aljazeera.com/news/2018/06/india-kerala-state-alert-nipah-virus-outbreak-180605112720057.html. Accessed July 2018.
Chua KB, et al. Science 2000;288:1432-1435.
Ang BSP, et al. J Clin Microbiol 2018;56:e01875-17.
Centers for Disease Control and Prevention. Nipah virus (NiV). Available at: https://www.cdc.gov/vhf/nipah/index.html. Accessed July 2018.
Coalition for Epidemic Preparedness Innovations. CEPI awards $25 million contract to Profectus BioSciences and Emergent BioSolutions to develop Nipah virus vaccine. Available at: http://cepi.net/node/285. Accessed July 2018.
India Today. Kerala government declares Kozhikode and Malappuram districts Nipah virus free. Available at: https://www.indiatoday.in/india/story/kerala-government-declares-kozhikode-and-malappuram-districts-nipah-virus-free-1274796-2018-07-01. Accessed July 2018.