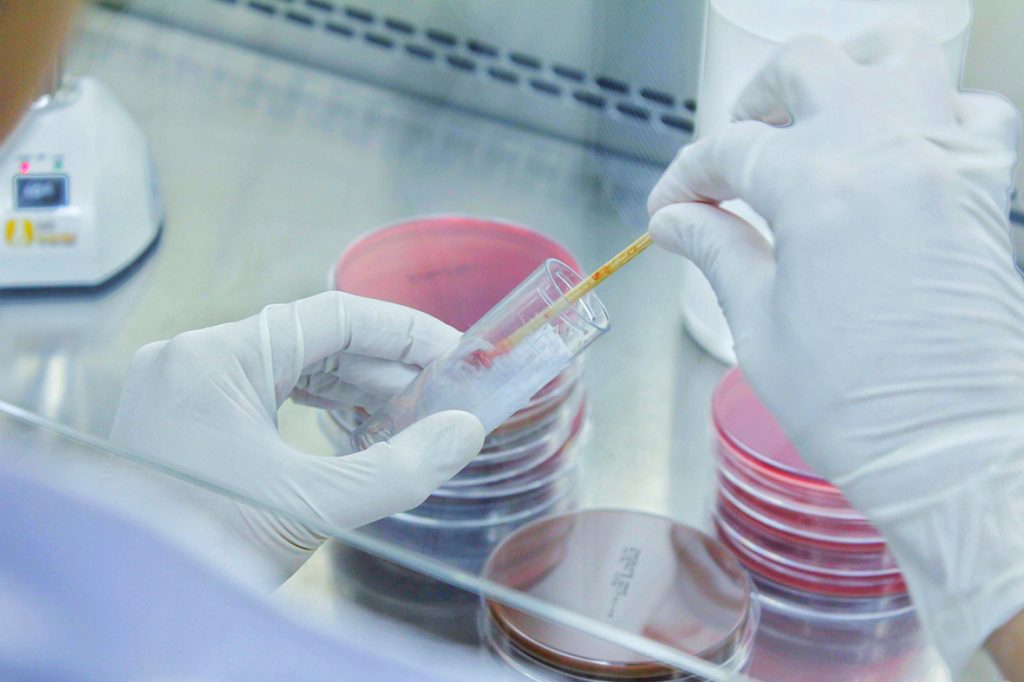 Antibiotic treatment with levofloxacin (500 mg/day) is shown to be effective in resolving persistent productive cough in a patient with Stenotrophomonas maltophilia pneumonia.
A 61-year-old male presented with persistent productive cough for 5 months that was not relieved by aminophylline (400 mg/day), deflazacort (60 mg/day), and formoterol/budesonide fumarate (24/800 mg/day); initial management included a 20-day course of amoxicillin/clavulanate potassium (875/125 mg) followed by 14-day clarithromycin (500 mg/day).
Community-acquired pneumonia is one of the major causes of mortality and morbidity worldwide – approximately 85% infections are caused by Streptococcus pneumoniae, Haemophilus influenzae, and Moraxella catarrhalis; less frequently by Chlamydophila psittaci, Coxiella burnetii, Francisella tularensis, Mycoplasma pneumoniae, Legionella spp, and Chlamydia pneumoniae.1
Empirical treatment for pneumonia is recommended immediately: azithromycin, clarithromycin or doxycycline for patients without comorbidities; azithromycin or clarithromycin in combination with amoxicillin or amoxicillin and clavulanate, or respiratory fluoroquinolone for patients with prior antibiotic use; levofloxacin, moxifloxacin or a combination of beta-lactam antibiotics for patients with comorbidities.1 The recommended duration of therapy is at least 5 days – which may be prolonged as necessary in case of complications.1
The patient's blood test revealed elevated C-reactive protein and blood sedimentation rate, leucocytosis, segmented neutrophils, and lymphopenia while computed tomography scan of the chest showed thickening of bronchial walls and centrilobular nodules. Sputum culture and susceptibility testing identified the presence of S. maltophilia that was sensitive to levofloxacin and sulfamethoxazole/trimethoprim.
S. maltophilia is a Gram-negative, aerobic, glucose non-fermenting, motile, and biofilm-forming bacillus.2 Although generally regarded as a low virulent microorganism, S. maltophilia is an emerging multidrug resistant opportunistic pathogen associated with nosocomial respiratory tract infections, bloodstream infections, skin and soft tissue infections, and urinary tract infections.2,3 Risk factors for S. maltophilia infection in immunocompromised patients include underlying malignancy, organ transplantation, chronic obstructive pulmonary disease, corticosteroid or immunosuppressant therapy, the presence of an indwelling catheter, and previous antibiotic treatment.1,2 However, recent evidence has shown increasing prevalence of S. maltophilia infection in the general population.2
The World Health Organisation (WHO) has recently classified this pathogen as one of the leading multidrug resistant organisms (MDROs) – its mechanisms of resistance attributable to β-lactamase production, expression of Qnr genes, and the presence of class 1 integrons and efflux pumps.2  Sulfamethoxazole/trimethoprim is the drug of choice for S. maltophilia infection; ceftazidime, ticarcillin-clavulanate and fluoroquinolones have also been reported to have good susceptibility results.2
Based on culture and antibiogram results, the patient was treated with levofloxacin (500 mg/day) for 15 days – which was successful in the resolution of his cough. The authors recommend the use of sputum examination – an important tool for accurate diagnosis and appropriate antimicrobial therapy choice for the successful treatment of each case.
Source
S. maltophilia pneumonia: A case report.
PMID: 29977756
DOI: 10.1016/j.rmcr.2018.04.004
Link: https://www.ncbi.nlm.nih.gov/pubmed/29977756
References
Geller M, et al. Respir Med Case Rep 2018;24:44-45.
Chang YT, et al. Front Microbiol 2015;6:893.
Brooke JS. Clin Microbiol Rev 2012;25:2-41.