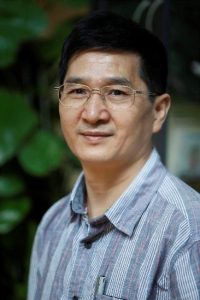 Professor Rongchang Chen
Director of Shenzhen Institute of Respiratory Diseases, Shenzhen People's Hospital
Former Director of Guangzhou Institute of Respiratory Diseases
10th Chairman of Chinese Thoracic Society
Chairman of COPD Alliance and Head of COPD Assembly, Chinese Thoracic Society
Chairman of Respiratory Equipment Committee, China Association of Medical Equipment
Former Chairman of Respiratory Society of Guangdong Province Medical Association
Deputy Director of National Clinical Research Centre for Respiratory Disease
Member of GOLD Board of Directors
State Council Special Allowance Expert, Ministry of Health Middle-aged and Young Expert with Outstanding Contribution
Q1: Are there any plans for the COPD assembly that you are leading to introduce new guidelines and consensus soon? Could you provide us with some preliminary details in advance?
The COPD assembly does indeed have a plan to launch a new guideline. We expect to release it at the end of this year. The current guidelines on chronic obstructive pulmonary disease (COPD) diagnosis and treatment was published in 2013. Over the years, there have been many new studies and evidence; many treatment strategies were also introduced. Thus, there is a need to update the guidelines for COPD. Overall, we will refer to the Global Initiative for Chronic Obstructive Lung Disease (GOLD). However, we will try to introduce individualised treatment regimen if possible, focussing on the personalised selection of the initial treatment regimen. We also intend to introduce a quantitative index for the adjustment of the treatment regimen during maintenance drug therapy for stable COPD. For instance, drug adjustments should be considered if certain indices are not achieved after the initial treatment. Furthermore, we will try to introduce the use of biomarkers to guide treatment strategies when available. There has also been an increase in the number of new effective drugs in recent years. This revision will also cover new drugs and management as much as possible. The study data from China will be the priority of reference.
Q2: We understand that the Chinese COPD guidelines have strong impacts on daily clinical practice in China. What are some of the challenges that China is currently facing regarding the management of COPD?
There are several major challenges. Firstly, there are relatively great inadequacies with regards to early detection and early treatment. Many patients with early-stage COPD are unaware of their disease and therefore, unable to receive timely diagnosis and effective treatment. Patients typically visit a doctor only when the symptoms are worsening and are severe, thus missing the early stage that may be the optimal period for treatment. Secondly, patient compliance is a big problem – many patients do not comply with long-term maintenance therapy. The accessibility of drugs is also a challenge – there is a widespread lack of doctors and drugs at the primary medical care in the rural area. There is also insufficient education and training for primary care doctors. Lastly, we lack an established disease management and follow up system. These challenges impede the implementation of a standard diagnosis and treatment for COPD.
Q3: In order to implement the guidelines into clinical practice and improve the diagnosis and management of COPD, what are some areas that require the most and immediate attention?
From my perspective, it is critical to have a more professional team, followed by establishing hierarchical medical system to optimise workload of doctors. Tertiary hospitals nowadays have an extremely heavy workload. There is little room to increase workload. On the other hand, medical management of COPD in the primary care system is far behind the standard suggested by the guidelines. Thus, we hope to establish a new management system to link specialists from tertiary hospitals and doctors from primary medical care. The efficacy of this new medical care system deserves investigation and such a project related to management of COPD as well as other chronic diseases are going on in Shenzhen.
Q4: One of the purposes of standardising the management of COPD is to decrease the incidence of acute exacerbation of chronic obstructive pulmonary disease (AECOPD). With the continual standardisation of COPD management, what is the current overall situation regarding the incidence of AECOPD in China? Is there a downward trend?
No nationwide statistics on this is available at the moment. Over the past few years, our team has conducted a follow up cohort study on COPD. After following up with 400 COPD patients for over two years, we found that after treatment, the rate of AECOPD decreased to 0.9 times/year compared with 1.5 times/year in a previous natural COPD cohort study. This suggests that there is a decrease in risk of AECOPD. However, due to differences among the subjects of both cohorts, we are unable to accurately evaluate if the incidence rate of AECOPD has decreased. Nevertheless, we can conclude that there has been a downward trend in acute exacerbation among the cohort which we followed up and complied with the treatment regimen. Recent clinical studies in China have also showed that the risk of acute exacerbation reduces with intervention. However, this conclusion cannot directly address your question on the overall change in the situation regarding the incidence of AECOPD. This is because of that many factors, such as baseline severity of COPD, patient's individual characteristics, as well as compliance to medication, contributes to the rate of AECOPD.
Q5: Are there any new progresses or information that you can share with us regarding the diagnosis and treatment of AECOPD?
I should say that, at present, there is no milestone progress on the diagnosis and treatment of AECOPD. There has been some revision of the guidelines in the past few years. From a research standpoint, we are gradually better understanding the heterogeneity and different phenotypes of AECOPD, such as those related to viral infection, bacterial infection, and non-infectious factors. COPD can be subdivided into eosinophils and neutrophils phenotypes according to sputum or blood classification. However, there is no direct relation yet between the evaluation of phenotypes and their corresponding optimal treatments, except for some post hoc analysis reports. For example, whether or not a certain phenotype will respond better to systemic corticosteroid or nebulised corticosteroid. Viruses are a common inducer of AECOPD, but we are still lacking guidance from prospective research on the use of antiviral drugs. More comprehensive research will be required to address the question on whether antivirals play a role in controlling symptoms and recovery in patients with AECOPD related to viral infections. There are research-based evidence for the application of antibiotics. Antibiotics therapy is effective in alleviating symptoms and expediting patient recovery when there is an increase of purulent sputum.
Q6: Does the society have any activities planned to further standardise diagnosis and treatment of AECOPD in 2020?
Yes, the society will try to improve the compliance to standardise protocol for diagnosis and treatment of AECOPD. Assessment and treatment protocols will be included in the new guidelines that are going to be released by the end of this year. From my viewpoint, the pertinent question is implementation of the evidence-based guidelines, rather than the release of new guidelines. Every year, the COPD assembly of Chinese Thoracic Society and the COPD Alliance organise lectures across the country in order to implement the COPD guidelines, with focuses on the maintenance treatment of stable COPD and standardised protocol of management of AECOPD. period, treatment for acute exacerbation. The youth committee of the Chinese Thoracic Society also contributes to the promotion and implementation of COPD guidelines.
Q7: What is the role of antibiotics therapy in the treatment of AECOPD? What special attention do we have to take note of with regards to antibiotics therapy?
The guidelines clearly state that antibiotics therapy is beneficial for AECOPD patients with increased in phlegm and purulent sputum. This is supported by Grade A evidence. However, there is no clear and simple guidance regarding infectious pathogens and targeted therapy yet. This is the important question in antibiotics therapy. There is need to discriminate the infection related or non-infection related AECOPD patient, according to the corresponding clinical characteristics and biomarkers. More researches are demanded to identify the clinical phenotypes and biomarkers corresponding to the bacterial or viral infection. However, there is no evaluation system available to evaluate infection pathogens related phenotypes yet.
Q8: What are the risk factors for Pseudomonas aeruginosa infection in management of AECOPD?
Pseudomonas aeruginosa is one of the most common infectious pathogens among AECOPD patients. The risk factors of P. aueruginosa infection include complicated pulmonary structural damages, such as bronchiectasis, or sequela of pulmonary tuberculosis and patients who frequently use antibiotics. AECOPD patients with risk factors have much higher probability P. aueruginosa isolated. The guidelines recommend that treatment for such high-risk patients should also cover P. aueruginosa. However, there are lack of large-scale multicentre study providing stringent and rigorous evidence on antibiotics therapy strategy in treatment of AECOPD patients with high risk of P. aueruginosa infection. I look forward to have more research addressing this so that it may be cited into the guidelines for clinical practice.
Q9: Is antibiotics therapy effective in decreasing the mortality rate of AECOPD patients and the possibility of treatment failure?
In AECOPD patients with presentation of infection, antibiotics therapy is associated with decreased treatment failure and mortality. The evidence are clear and are supported by Grade A evidence. However, there is a lack of further evidence for pathogen targeted treatment. In other words, there are insufficient evidence to support that a particular drug therapy is more effective than the other against selected pathogen.
Q10: What are the considerations for initiating antibiotics agents?
The guidelines suggest several common pathogens related to AECOPD – Haemophilus influenzae, Moraxella catarrhalis, pneumococcus, and P. aeruginosa. Thus, treatment should cover these commonly observed pathogens. In case there is severe airflow limitation and the aforementioned risk factors of P. aeruginosa infection, the guidelines recommend medication that covers P. aeruginosa.
Q11: Daiichi Sankyo Pharmaceutical is a company specialising in manufacturing and developing quinolones including ofloxacin, levofloxacin, and the recently released sitafloxacin. What are your hopes and expectations towards the application and development of quinolones?
Quinolones are broad-spectrum antibiotics frequently used in China. The advantage of quinolones is the ability to cover Gram-negative bacilli and Gram-positive cocci, including anaerobes, mycoplasma and chlamydia. Respiratory quinolones, such as levofloxacin and sitafloxacin, are able to cover the common pathogen in patients with AECOPD. They are also effective against tubercle bacillus and are relatively broad-spectrum. However, we should also be aware of adverse reactions to quinolones, especially for early-phase products. Common adverse reactions include disturbance of sleep, gastrointestinal reactions, and allergy.
There is also concern on the development of resistance to quinolones. In order to better preserve this class of drug, many hospitals have administrative provisions for the use of these drugs, i.e. only respiratory specialists are permitted to prescribe respiratory quinolones, whereas restrictions are in place for the use of these drugs by other departments.
References:
GOLD 2020
Chinese Expert Consensus on Diagnosis and Treatment of Acute Exacerbation of Chronic Obstructive Pulmonary Disease (AECOPD) (2017)
Expert Consensus on Anti-infective Therapy of Acute Exacerbation of Chronic Obstructive Pulmonary Disease AECOPD (2019)