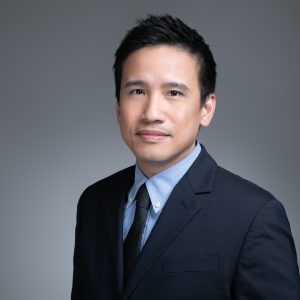 Dr Wilson Lam
Specialist in Infectious Disease, Chiron Healthcare Group;
Honorary Clinical Associate Professor, The Chinese University of Hong Kong (CUHK);
Honorary Clinical Assistant Professor, The University of Hong Kong (HKU);
Hong Kong.
With the ongoing coronavirus disease 2019 (COVID-19) pandemic, Hong Kong was one of the first affected regions outside mainland China. While the rest of the world continues to scramble to contain the infection, Hong Kong reports one of the lowest COVID-19 fatality rates with a low number of community cases per day (total of 5,076 cases and 105 deaths, as of 29 September 2020).1
Dr Wilson Lam, an infectious disease expert, shares his experience in managing patients with community-acquired pneumonia (CAP) during the COVID-19 pandemic.
Q1. Given the similarities between symptoms associated with CAP and COVID-19, how are patients evaluated and diagnosed? How do you differentiate between the two infections?
COVID-19 is different from other viral respiratory tract infections (RTIs) as it affects the lower respiratory tract in a high proportion of patients while other viral RTIs usually affect only the upper respiratory tract. For instance, the lower respiratory tract is rarely involved in a patient with influenza; when these patients do develop lower respiratory tract symptoms, it is usually caused by a secondary bacterial infection. The symptoms of COVID-19 could be similar to those of bacterial pneumonia. During this COVID-19 pandemic, patients who present with RTI symptoms such as fever, cough or runny nose will first be evaluated to rule out COVID-19 infection, i.e. a negative polymerase chain reaction (PCR) nasopharyngeal and/or oropharyngeal swab. Once COVID-19 infection is ruled out, patients will be managed as a typical case of CAP. However, if patients develop purulent sputum, persistent fever, and crepitations on lung auscultation, as well as radiological features typical of pneumonia, in addition to the COVID-19 PCR test, a sputum culture and rapid identification of other bacterial pathogens by PCR will be performed.
Can chest radiograph differentiate between pneumonia and COVID-19?
Chest x-ray may not be able to differentiate between pneumonia and COVID-19 although some clinicians may be able to distinguish between bacterial pneumonia and viral pneumonia. This is because chest x-ray is less sensitive and specific compared with other imaging modalities. A computed tomography (CT) scan of the thorax will be more sensitive in differentiating between bacterial and viral pneumonia, including COVID-19. However, CT scan may not be offered to all patients – in Hong Kong most patients are admitted to the public hospitals where CT scans may not be readily available. In contrast, in the private practice where CT scan is more readily available, clinicians will be able to make prompt and accurate diagnosis with a low-dose CT scan of the thorax alone.
Q2. As patients with COVID-19 may present with concurrent CAP, are suspected cases given empiric antibiotics?
Currently, all COVID-19 cases are being managed at the public hospitals and all of them are given empiric antibiotics. Different antibiotics are given based on the clinical situation. Combination therapy is usually given to patients with mild-to-moderate pneumonia. For instance, amoxicillin and clavulanic acid plus doxycycline in the case of Mycoplasma pneumonia are given as first-line treatment. In patients with severe pneumonia, broad-spectrum antibiotics such as piperacillin-tazobactam and carbapenems will be given to include the coverage of Pseudomonas aeruginosa. In patients with penicillin allergy, levofloxacin or other fluoroquinolones will be considered. Fluoroquinolones are also given to cover both typical and atypical pathogens.
Q3. Can we then classify COVID-19 as atypical pneumonia?
Typical pneumonia usually suggests bacteria as the causative pathogens and patients typically develop symptoms including fever, cough that produces sputum, and chest x-ray features of lobar pneumonia, i.e. predominant distribution of the consolidation patterns or inflammation on just one lobe of the lungs. As for atypical pneumonia, we often observe more diffused involvement of the lungs with more patchy distribution. It would be more useful to classify pneumonia based on microbiological findings nowadays.
Q4. How has the management of patients with CAP changed during the current COVID-19 pandemic?
We have experienced drastic changes in infection control during this pandemic – all patients are isolated to rule out COVID-19. Meanwhile, the initial clinical management of patients with CAP remains and has not changed much – especially when there is no surge of influenza in the community.  Patients are given empiric antibiotics while awaiting diagnostic test results.
However, the situation may be complicated in the upcoming winter flu season in Hong Kong. We will be expecting more patients presenting fever and RTIs, thus potentially more COVID-19 suspected cases. Our healthcare system will potentially be under more pressure with increasing number of patients requiring isolation and diagnostic testing for pneumonia, influenza, and COVID-19.
Q5. With the COVID-19 vaccines still in development, how has Hong Kong – or your clinical practice in particular – managed patients with COVID-19? Are there any specific guidelines for the management of these patients?
We have had a set of guidelines established by the hospital authority since February 2020, in which antiviral and immunomodulatory therapy are recommended for all COVID-19 cases. During the initial COVID-19 pandemic, we have used lopinavir/ritonavir, ribavirin, as well as interferons. Patients with severe or deteriorating disease requiring mechanical ventilation are also be given immunomodulatory therapy, mainly steroid. Other immunomodulatory therapy such as tocilizumab – an interleukin inhibitor, may also be given to selected patients. Later on in the pandemic, some patients were enrolled in the remdesivir clinical trial, which has by now completed in Hong Kong. With the limited availability of remdesivir following the completion of the clinical trial, treatment with remdesivir is now only given to patients with more severe conditions, including those who do not respond to first-line therapy.
Q6. With the widespread use of antibiotics since the start of the COVID-19 pandemic, are clinicians more worried about CAP caused by antimicrobial-resistant pathogens in Hong Kong? If so, what are the therapeutic strategies adopted to address this concern?
For the past decade, the emergence of antimicrobial-resistant pathogens has always been a concern – particularly in the public healthcare service due to the high volume of admissions. Tighter infection control measures will be necessary during the influenza season or during seasonal outbreaks. There is also a higher risk of emergence of antimicrobial-resistant pathogens when broad-spectrum antibiotics are required in addition to limited therapeutic options for the treatment of severe diseases.
As such, the first step in addressing the emergence of antimicrobial-resistant pathogens will be to ensure the prudent use of antibiotics. Subsequently, step-up measures in infection control are also essential to prevent the spread of drug-resistant nosocomial pathogens.
Reference
The Government of Hong Kong Special Administrative Region. Latest situation of coronavirus disease (COVID-19) in Hong Kong. Available at: https://chp-dashboard.geodata.gov.hk/covid-19/en.html. Accessed 29 September 2020.