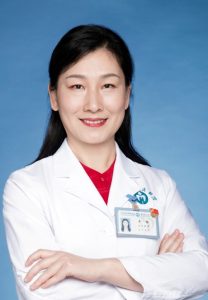 Professor Li Jing
Director of the Department of Respiratory and Critical Care, Guangdong General Hospital
Chief Physician / Doctor of Medicine / Doctoral Supervisor
Director of Guangdong General Hospital Training Center for Respiratory Intervention, Physician of the Chinese Medical Doctor Association
Member of the Interventional Pulmonology Group, Chinese Society of Respiratory Diseases
Member of the Professional Committee of Respiratory Endoscopy, Chinese Medical Doctor Association
Deputy Head of the quality control group of the Interventional Pulmonology Working Committee of the Respiratory Physician Branch, Chinese Medical Doctor Association
Chairperson of the Expert Committee on Respiratory Drugs, Guangdong Pharmaceutical Association
Head of Therapeutic Group, Respiratory Medicine Branch, Guangdong Medical Doctor Association
Deputy Head of Interventional Group, Respiratory Branch of Guangdong Medical Association
Deputy Director of the Bacterial Infection and Drug Resistance Prevention and Control Branch, Guangdong Medical Association
Vice Chairperson of the Professional Committee of Respiratory Medicine, Guangdong Clinical Medical Association 
Engaged in several national and provincial research projects and has published more than 40 journal articles in SCI and core journals.
Pioneer in the use of ultrasound probes in China to study airway wall lesions, peripheral lung lesions, etc., with a combination of bronchoscopy navigation technology and intra-airway ultrasonography technology to guide the biopsy and treatment of intra-airway lesions.
Innovated the development and application of a new defect occluder in the treatment of tracheoesophageal fistula, providing new technology for clinical treatment of tracheoesophageal fistula.
In charge of setting up a VTE prevention framework in the hospital.
A fourth generation of quinolones has been developed, and for the past 60 years, this class has provided numerous clinicians with extensive clinical experiences, which has enabled us to gain better insights into the advantages and differences among traditional quinolones, such as ciprofloxacin, levofloxacin, moxifloxacin, etc., in the application of respiratory medicine.
Q1. What are the characteristics and advantages of traditional classic quinolones?
Ciprofloxacin-Reference, Levofloxacin-Balance, Moxifloxacin- Community
In clinical application, each traditional quinolone drug possesses its specific focus. For example, ciprofloxacin contains stronger active ingredients against Gram-negative bacteria and can cover Pseudomonas aeruginosa,1 but owing to its poor bioavailability, it is mainly administered intravenously. Levofloxacin can cover common pathogenic bacteria in the respiratory system and Gram-negative bacteria such as aeruginosa.2 Among the three, moxifloxacin contains the strongest active ingredients against common pathogens of community-acquired pneumonia, but its active ingredients against negative bacteria are weaker than those of ciprofloxacin3 and levofloxacin4; also, moxifloxacin cannot cover Pseudomonas aeruginosa.2 Levofloxacin and moxifloxacin are "respiratory quinolones", both of which have high oral bioavailability and are available in oral and intravenous dosage forms, which can be administered sequentially.2,5
Quinolones carry the risks of adverse effects such as insomnia, QT prolongation and arrhythmia. Thus, if the patient is suffering from irregular heartbeats or arrhythmia and is taking drugs that may cause arrhythmia or QT prolongation, administration of quinolones2,6 is not recommended. Other adverse effects such as photosensitivity toxicity,7 Achilles tendon rupture, skin pox, rash, gastrointestinal reactions, etc., should also be the focus of our clinical attention.2,8
Q2. How to balance the clinical efficacy and safety of traditional quinolones with different characteristics in the selection of suitable quinolones to meet the needs of patients?
First of all, the safety issues must be given proper consideration. Each drug has its potential adverse effects, which correlates with individual differences among patients. Despite the specific percentage of adverse effects, quinolones as a whole are relatively safer drugs. In terms of antibacterial spectrum and safety, however, primary drugs and Chinese-made drugs that have passed the consistency assessment will be listed as the first choice. To begin with, the consistency assessment includes in vitro pharmacology and bioequivalence, in which an acceptable deviation ranging from 80% to 125%9 is set for bioequivalence; that is, tested pharmacokinetic parameters with 90% confidence intervals within this range meet the criteria for bioequivalence evaluation. Also, the manufacturing method and raw materials, which may vary in every aspect of the manufacturing process, affect the safety and effectiveness of drugs. Also, bioequivalence is not equivalent to clinical therapeutics equivalence, and further clinical comparative studies should be conducted to acquire reliable data.
Secondly, choose the drugs most suitable for the patient's condition based on the antibacterial spectrum, indications and guides of each quinolone.
For patients with community-acquired pneumonia (CAP), levofloxacin and moxifloxacin can be used because both can cover CAP pathogens and also can be used alone.2 When using cephalosporins for treatment, combination therapy is suggested due to their incomplete coverage against the pathogenic bacteria. On this basis, the compliance of patients treated with quinolones should serve as reference. For patients with structural lung disease, such as bronchiectasis, levofloxacin is generally preferred. However, with sitafloxacin launched onto the market in Japan (2008) and China (2019), it has been recommended as the drug of choice for treating respiratory tract infections, urinary tract infections, etc. Japanese Guidelines on the Management of Adult Patients with Pneumonia list sitafloxacin as one of respiratory quinolones.10 For inpatients with hospital-acquired infections, either ciprofloxacin or levofloxacin can be used for intravenous administration. Dose limits are set for patients with poor cardiac function or AIDS, and oral sitafloxacin11 can also serve as an option.
Third, in the selection of medicine, the differential diagnosis must be handled with care, and it's also necessary to consider whether the antibiotics cover the pre-identified pathogens. For example, when a patient is suspected to be suffering from tuberculosis, anti-infectives that contain no or weak active ingredients against tuberculosis, such as nemonoxacin12, should be used in the early stage to avoid interfering in the diagnosis of tuberculosis. Considering the risk of drug-resistant bacteria, if a Gram-positive organism infection is suspected, drugs that cover drug-resistant bacteria, such as sitafloxacin, should be applied.
Lastly, detailed inquiries about medical histories and combination therapies must be made, and patients at high risk of poor health should be stratified to minimize the risk of adverse events. As for elderly patients, patients with arrhythmias, and patients taking drugs that cause QT prolongation (corticosteroids, macrolides, aminoglycosides, immunosuppressants, etc.), the risk of quinolones prolonging the QT interval must be considered; thus, quinolones6 should be avoided or used in combination.
Q3. The prospect of new quinolones in therapeutic application
Indeed, with the ongoing development of antibacterial drugs, new quinolones, such as the aforementioned nanofloxacin and sitafloxacin, have been successively launched in China, providing more treatment options for clinicians in our country. The only indication for nanofloxacin is adult community-acquired pneumonia, and it contains enhanced antibacterial activity against Gram-positive bacteria, which is similar to that of moxifloxacin. Sitafloxacin, launched in 2019, has a broad antibacterial spectrum, which thus covers aerobic and anaerobic Gram-positive bacteria, Gram-negative bacteria, atypical pathogens, and Pseudomonas aeruginosa,13 in particular. In terms of antibacterial activity against ESBL-producing Escherichia coli and ciprofloxacin-resistant Escherichia coli, sitafloxacin works better than traditional quinolones14 and thus the indications12 for it are related to respiratory system, urinary system, and facial features.
Delafloxacin, which is not yet been on the market in China, has also been brought to the attention of clinicians who can only gain an understanding of it from the review of the relevant literature presently. From the aspect of in vitro clinical studies, delafloxacin is similar to vancomycin in efficacy, and its indications are temporarily for dermatology.
Overall, quinolones are an important group of antibacterial drugs. With new antibacterial drugs on the market, the breadth and depth of relevant pharmaceutical research and development data are expected to be seen in the clinical practice, thereby enabling clinicians to better understand the drugs and make better decisions when selecting the right drug for individual patients.
References
D K Terp, M J Rybak. Ciprofloxacin[J]. Drug Intell Clin Pharm. 1987,21(7-8):568-574.
Respiratory Branch of the Infection Group, Chinese Medical Association. Expert consensus on rational use of quinolone antibiotics in the treatment of lower respiratory tract infections [J]. Chinese Journal of Tuberculosis and Respiratory Medicine 2009, 32(9):646-654.
J A Balfour, L R Wiseman. Moxifloxacin[J]. Drugs,1999,57(3):363-373.
Alessia G Servidio, Roberto Simeone, Davide Zanon,et al. Levofloxacin Versus Ciprofloxacin-Based Prophylaxis during the Pre-Engraftment Phase in Allogeneic Hematopoietic Stem Cell Transplant Pediatric Recipients: A Single-Center Retrospective Matched Analysis[J]. Antibiotics (Basel),2021,10(12):1523.
Editing team of "Expert Consensus." Indications and rational application of quinolones in the treatment of infectious diseases: Expert Consensus[J]. Chinese Journal of Infection and Chemotherapy, 2009, 9(2):81-88.
Li Lu, Wen Liang, Fang Demin, et al. A Systematic Retrospective Analysis of QT Prolongation Caused by Quinolones[J]. Tianjin Pharmacy 2019,31(2):15-21.
Allana J Mehlhorn, Dana A Brown.Safety concerns with fluoroquinolones[J]. Ann Pharmacother, 2007,41(11):1859-1866.
Guo Lan, Ma Limei. Adverse Effects and Rational Application of Fluoroquinolones[J]. Northern Pharmacy 2016,13(1):138-139.
Allana J Mehlhorn, Dana A Brown. Safety concerns with fluoroquinolones[J]. Ann Pharmacother, 2007,41(11):1859-1866.
Zhang Xuan, Li Yanming. The Role of Quinolone Antibiotics in the Treatment of Respiratory Infectious Diseases[J]. Clinical Medication Journal, 2019, 7(7):17-22.
Jin Fangfang, Yin Jie, Nan Nan. Reflections on the Consistency Assessment of the Quality and Efficacy of Generic Drugs for Chemical Solid Oral Preparations[J]. Chinese Journal of Pharmaceutical Analysis, 2018, 38(4): 575-581.
Japanese Guidelines on the Management of Adult Patients with Pneumonia, The Japanese Respiratory Society, 2017.
Instruction on Sitafloxacin in China, edited in 20210517
Hao Min, Qin Xiaohua. A New Fluoroquinolone-free Antibacterial Drug—Nenofloxacin[J]. Chinese Journal of Infection and Chemotherapy, 2018, 18(6): 663-671.
Gillian M Keating.Sitafloxacin: in bacterial infections[J]. Drugs,2011,71(6):731-44.
Wu S, Yang Y, Yan G, et al. Comparative activities of sitafloxacin against recent clinical isolates in hospitals across China[J]. Eur J Clin Microbiol Infect Dis. 2021 Nov;40(11):2271-2283.