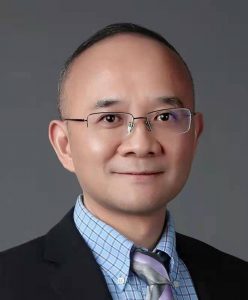 Xiao Yonghong, Professor, Chief Physician, Doctoral Supervisor
Deputy Director of State Key Laboratory for Diagnosis and Treatment of Infectious Diseases,
The First Affiliated Hospital, School of Medicine, Zhejiang University
AMR Containment Consultant of WHO/WPRO
Council Member of the International Society of Chemotherapy
Council Member of the Global Chinese Association of Clinical Microbiology and Infectious Diseases (GCACMID)
Council Member of Western Pacific Society of Clinical Microbiology and Infection
Member of Expert Committee on Rational Drug Use of the National Health Commission
Vice Chairman of Infection Control Branch of Chinese Preventive Medicine Association
Standing Committee Member of Infectious Disease Branch of Chinese Medical Doctor Association
Standing Committee Member of Infectious Disease Branch of Chinese Medical Association
Standing Committee Member of Bacterial and Fungal Infection Disease Branch of Chinese Medical Association
Council Member of Antibiotics Committee of Chinese Pharmaceutical Association
Standing Committee Member of Microecology Branch of Chinese Preventive Medicine Association
Standing Committee Member of Infectious Disease Branch of Zhejiang Medical Association
Standing Committee Member of Infectious Diseases Branch of Zhejiang Medical Doctor Association
Q1. In recent years, a series of new healthcare policies have been introduced in China, such as generic drug consistency evaluation and volume-based procurement of drugs (VBP). Would you please brief the impact of all the healthcare policies on the rational use of drugs in China?
Rational drug use is a systematic project, involving drug research and development, production, circulation, use, supervision and other relevant aspects; each of these aspects is supervised by a corresponding government department. The State Food and Drug Administration (SFDA) plays an important role in drug registration and quality supervision after registration; the National Health Commission mainly supervises the clinical use of drugs; the medical insurance bureau controls the price of drugs. Altogether, these management policies more or less impact the rational use of drugs.
In general, regardless of the physicians or the management departments, the goal is the same, that is, to provide all patients with the necessary medical treatment. In recent years, SFDA promotes primarily oral generic drugs for their efficacy, safety and consistency in bioequivalence studies. Some evaluation requirements for intravenous drugs have also been introduced recently. The National Health Commission has issued several documents and guidelines regarding the rational use of antibiotics every year since 2011. The National Healthcare Security Administration (NHSA) has adopted a series of actions such as VBP and national medical insurance negotiations, which have significantly reduced drug prices.
Under the guidance of basic national policies, medical institutions have also carried out numerous activities on rational use of antibiotics and have achieved outstanding results. Recently, clinicians have been using generic VBP drugs approved with the consistency evaluation, particularly drugs with extremely low prices may cause confusion among doctors and patients. It is understandable that patients and prescribers feel worried about the quality of drugs and their treatment effects after the sudden sharp change in price. At the management level, enterprises will be required to carry out a series of work, including drug consistency evaluation, to ensure the quality of drugs. It is believed that the vast majority of drugs can meet the national quality requirements, and also meet the clinical needs.
In order to ensure rational use of drugs and appropriate treatment, clinicians and pharmacists also need to conduct careful clinical observation or research. Numerous overseas studies have shown that it is impossible to comprehensively evaluate whether all generic drugs are equivalent to the original ones only through bioequivalence studies. Although most drugs can be correctly evaluated by this method, it is still impossible for particular drugs. Therefore, both healthcare professionals and patients also play active roles with their own actions in the implementation of national policies.
Recently, the policies promulgated by the government have had some influence on clinical medication. For instance, some frequently used drugs for the treatment of chronic diseases can no longer be purchased because of VBP failure. These are the issues that need to be considered and worth our attention.
In summary, we hope to provide patients with high-quality and accessible drugs, both in management policy and professional perspective. The basic principles of rational drug use remain unchanged: safe, effective and economical.
Q2. Under the new policy, what are some special considerations in choosing antibiotics? How should we choose the appropriate drugs?
The basic principle of antibiotics rational use is: An antibacterial agent must come with an indication for use, and we must use an antibiotic with the presence of bacterial infections. For patients with antibiotic indications, drugs with good safety and efficacy widely proven in clinical practice should be selected.
There are many points to take note of in the specific details of the rational use of antibiotics – among which the quality of drugs must be taken into consideration. Clinicians should try to choose drugs they are familiar with and have definite effects, for which they have extensive clinical use experience, otherwise patients may face unnecessary risks. In particular, for some serious infections, we need to pay more attention to the choice of drugs. After all, antibiotics are the key drug for treatment of infections. It would be a great pity if treatment of patients failed because of inappropriate choice of drugs.
After the drugs have been carefully selected, it is necessary to follow the basic principles of rational use of antibiotics, such as dosage, route of administration, course of treatment, and whether to use combination treatment. At present, the use of antibiotics according to the pharmacokinetic-pharmacodynamics (PK-PD) principle is widely advocated.
Finally, it is imperative to conduct as much microbiological investigation as possible before using any antibiotics. Only by continuous microbiological examination can we unravel the causative pathogens and their drug susceptibility, which is essential and plays an important role in guiding antibiotic selection.
Q3. How can we optimise antibiotic use?
Optimisation of antibiotics therapy is equivalent to rational drug use, which ensures the implementation of the basic principles of safety, effectiveness and economy, and may be refined in clinical operation.
Firstly, choose the safest drugs. Quinolones, for example, are used extensively in clinical practice, but many were withdrawn from the market due to safety reasons, among which temafloxacin, grepafloxacin and trovafloxacin were the most typical ones. Other quinolones, such as enoxacin and lomefloxacin, were also used more frequently previously, but they are rarely used nowadays because of significant adverse reactions. At present, the quinolones that are safe and approved for long-term use include ciprofloxacin, levofloxacin and moxifloxacin.
Secondly, antibiotics should be used based on the PK/PD principle. The PK/PD principle is a comprehensive consideration based on the human pharmacokinetics and drug sensitivity. Different drugs have different indices. For example, T>MIC is the PK-PD index for cephalosporins, and AUC/MIC is taken as the index for quinolones. Depending on its target value after medication, the dosage is adjusted accordingly.
Thirdly, the drug efficacy and administration strategy should be carefully evaluated. When a patient is seriously ill, he/she should be treated with injections, and, treatment can be switched to oral formulations after symptoms relief. At present, such switching of treatment is applicable for quinolones – whereby treatment can be switched between the intravenous and oral formulations easily. For example, levofloxacin is administered intravenously first and then taken orally, which can effectively reduce the length of stay in hospitals and save treatment costs, and thus it is an excellent choice.
Fourthly, pharmacoeconomics should be considered. It should be noted that pharmacoeconomics depends not only on the price of a drug, but also on the value of the drug. For example, if the therapeutic effect of a drug is excellent, how does it affect the whole population? Therefore, pharmacoeconomics is not simply a study of drug prices, but also impacts on patient population and the use of social resources.
Q4. What advice do you have on the market access and clinical application of antibiotics newly incorporated into NRDL, such as the fluoroquinolone sitafloxacin?
The threat of antimicrobial resistance is a major concern. As such, both the World Health Organization and governments of various countries have stepped up strategies to mitigate drug resistance. One of the most important principles is to encourage enterprises and R&D institutions to develop new drugs to overcome drug resistance.
After a new drug enters the market, some management policies will be applied to it, including registration, price and medical insurance access. For example, after a new antibacterial drug is brought to the market, its price is not determined by VBP, but by national medical insurance negotiations, which may be more reasonable than VBP.
The clinical demand for new drugs is certain, and it is necessary to continuously provide effective new drugs for patient use, i.e., to meet the treatment needs. The managemental authority should guarantee every citizen enjoy the achievement of social development, including economic development and the development of medical science and technology. From the perspective of new drug market access, the clinical application value of new drugs like sitafloxacin is self-evident. In terms of clinical demand and medical insurance management, patients with proper indications selection are crucial. As long as the appropriate patient population is identified, market access is naturally relatively easy, and coordination between clinical medication and medical insurance can be achieved.
Antimicrobial resistance is on the rise. Only by developing new drugs, and identifying their characteristics and target population, can we garner more tools in combating the problem, both at the management and doctor level; the more valuable drugs will be well accepted by both medical staff and management in ensuring the health and well-being of all citizens.
References:
The 12th Five-Year Plan for National Drug Safety
National Guidelines for Antimicrobial Treatment
Catalogue of National Basic Medical Insurance, Industrial Injury Insurance and Maternity Insurance Drugs (2020)